The first step to expanding our Japanese services around the world is to establish local subsidiaries in all major regions. We currently have 37 locations.We support Japanese corporations expanding overseas and offer assistance to investors with overseas real estate investments. Furthermore, we are striving to offer an even higher level of value-added services by further widening our coverage and taking advantage of our global network.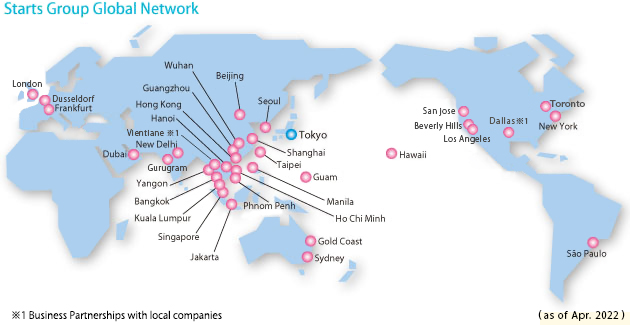 Housing/office/storefront /factory/etc. brokerage
When corporations try to expand overseas, they require housing for expats, offices, plants and/or shops, etc. in order to operate their businesses. We offer real estate services to meet the corporations' demands to help provide the assistance they need to get started and grow.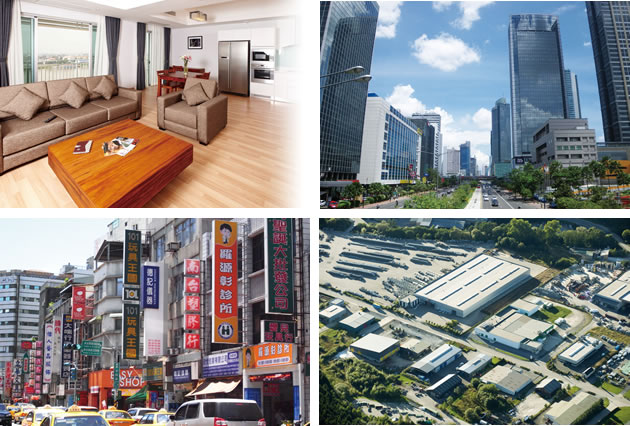 Management of our "COCORO" service offices
Our service offices are ideal as preparatory offices during new expansions or as resident offices, and can be found in various locations (Shanghai, Yangon, as of October 2013). The "COCORO" service offices will contribute to your business success with their cozy and comfortable atmospheres.


Consulting support throughout the entire start-up process
We support clients' new lives in respective city. Our consulting goes beyond the borders of real estate brokerage. For restaurants and retailers, this means not only introducing storefront locations, but also total support throughout the entire process of starting up clients' businesses.


Support for purchasing resort / investment properties
For customers who would like to start their resort lives or invest in real estate overseas, we offer superior asset building support by taking advantage of the most current information and our knowledge of the local environment.


Bringing Our Strength Overseas
We have identified real estate development, including condominiums and serviced apartments, etc., as a key business opportunity in our global expansion, particularly in developing countries. Our intention is to capitalize on our extensive experience and knowledge accumulated over the years in Japan.



China
【Shanghai】Starts Real Estate Consultants (Shanghai) Co.,Ltd.
Address

6th floor, Jun Yao International Plaza, 789 Zhao Jia Ban Road, Shanghai 200032,China

TEL

+86-21-6125-6888

E-Mail

starts@shstarts.com
【Beijing】Starts Real Estate Consultants (Shanghai) Co.,Ltd,Beijing Btanch
Address

Lanbao Guoji Zhongxin 1zuo 701shi, Xidawanglu 3-3, Chaoyangqu, Beijing.

TEL

+86-10-8599-7234

E-Mail

beijing@startsbj.com
【Guangzhou】Starts (Guangzhou) Consulting Service Co.,Ltd.
Address

Room410,Goldlion Digital Network Center,No138,Tiyu Road East,Tianhe District,Guangzhou China

TEL

+86-20-3877-0041

E-Mail

starts@starts-gz.com
【Wuhan】Starts (Wuhan) Consulting Service Limited
Address

Room.705, Bldg A, New World Center, 634 Jie Fang Road, Wuhan 430032,China

TEL

+86-27-8556-9677

E-Mail

starts@starts-wh.com
【Dalian】Starts Real Estate Consultants (Dalian) Co.,Ltd.
Address

72 room 12/F World Trade Center, 25 Tongxing Street, Zhongshan District,
Dalian, 116001

TEL

+86-411-82506123

E-Mail

info@starts-dalian.com
【Taiwan】Starts International Taiwan Inc.
Address

Room-B,4th floor,Shin Kang Chung Shan Bldg,44, Sec.2, Chung Shan N.Road, Taipei,104, Taiwan

TEL

+886-02-2511-0508

E-Mail

twn@starts-taiwan.com
【Hongkong】Starts Hongkong Co.,Ltd.
Address

Unit 1805, 18th floor, Causeway Bay Plaza 2, 463-483 Lockhart Road, Causeway Bay, Hong Kong

TEL

+852-2836-0760

E-Mail

starts@starts-hk.com
Korea
【Seoul】Starts International Korea Co.,Ltd.
Address

1004 10th floor,President Hotel 188-3, Euljiro 1-ga, Jung-gu, Seoul 100-191,Korea

TEL

+82-2-779-8170

E-Mail

korea@startskorea.co.kr
Philippines
【Metropolitan Manila】Starts Philippines Inc.
Address

5th floor, Sky Plaza, 6788, Ayala Avenue, Makati City, Philippines

TEL

+63-2-553-8850

E-Mail

kazuki.oomi@starts.co.jp
Vietnam
【Hanoi】Starts International Vietnam Co.,Ltd.
Address

Unit 4.11, CornerStone Building, 16 Phan Chu Trinh Str.Hoan Kiem Dist., Hanoi,Vietnam

TEL

+84-24-3936-9884

E-Mail

info@starts.com.vn
【Ho Chi Minh】Starts International Vietnam Co.,Ltd. Ho Chi Minh Branch
Address

#1402, Saigon Riverside Office Center, 2A-4A Ton Duc Thang Street, Dist. 1,HCM City, Vietnam

TEL

+84-28-3520-8144

E-Mail

info@starts.com.vn
Thailand
【Bangkok】Starts International (Thailand) Co.,Ltd.
Address

29 th floor1. United Center Bldg. 323 Silom Road, Silom Bangrak,
Bangkok 10500,Thailand

TEL

+66-2-630-4848

E-Mail

starts@starts.co.th
Myanmar
【Yangon】Myanmar Starts Corporate Services Co.,Ltd.
Address

4th floor,YUZANA Hotel 130 Shwe Gon Taing Road,Bahan township, Yangon, Myanmar

TEL

+95-1-860-3390

E-Mail

starts@starts.com.mm
Cambodia
【Phnom Penh】Starts (Cambodia) Corporation
Address

Office #104, Lobby Level of Hotel Cambodiana 313 Sissowath Quay,Phnom Penh, Cambodia

TEL

+855-23-966-800

E-Mail

pp@startscambodia.com
Laos
【Vientiane】Having business partnership with company in Laos
*For inquiries, please contact International Division, Starts Corporation Inc.,
TEL

+81-3-6202-0148

E-Mail

kaigai@starts.co.jp
Malaysia
【Kuala Lumpur】Starts International Malaysia Sdn. Bhd.
Address

Suite 4011,4th floor,President House,No.54 Jalan Sultan Ismail,Kuala Lumpur 50250, Malaysia

TEL

+60-3-2141-1014

E-Mail

info@starts.com.my
Singapore
【Singapore】STARTS SINGAPORE PTE.LTD.
Address

10 Anson Road #19-13 International Plaza, Singapore 079903

TEL

+65-6220-0320

E-Mail

starts@starts-sg.com
Indonesia
【Jakarta】Pt. Starts International Indonesia
Address

Midplaza2 Building, 19th Floor, Jl. Jend. Sudirman Kav.10-11,Jakarta 10220, Indonesia

TEL

+62-21-570-7632

E-Mail

miura@starts.co.id
India
【New Delhi】STARTS INDIA PRIVATE LIMITED
Address

Unit No-1201,1203.12th floor,Statesman House,148 Barakhamba Road,
Connaught Place,New Delhi,Delhi 110001,India

TEL

+91-11-4692-1040

E-Mail

starts@starts-india.co.in
【Gurugram】STARTS INDIA PRIVATE LIMITED GURUGRAM BRANCH
Address

Unit No.420, 4th Floor, MGF Metropolice, M.G road,
Sector 25,Gurugram-122002

TEL

+91-124-4130341

E-Mail

starts@starts-india.co.in

United States of America
【Los Angeles】Starts Pacific Inc.
Address

1219 El Prado Ave., Torrance CA 90501, U.S.A.

TEL

+1-310-782-7877

E-Mail

info@startsla.com
【San jose】STARTS PACIFIC,INC.–SAN JOSE
Address

111 North Market Street, Suite 300, San Jose, CA 95113, U.S.A.

TEL

+1-408-380-2499

E-Mail

info@startssanjose.com
【Dallas】Starts International Dallas, Inc.
Address

5001 Spring valley Road, Suite 400 East Tower, Dallas., TX, 75244-3947

TEL

+1-972-383-1533

E-Mail

mtsuda@startsdallas.com
【New York】Starts New York Realty, LLC
Address

420 Lexington Avenue, Suite 870,New York, NY 10170,U.S.A.

TEL

+1-212-599-7697

E-Mail

otoiawase@startsnewyork.com
【Hawaii】Starts International Hawaii, Inc.
Address

1953 South Beretania Street, Suite PH-C Honolulu, Hawaii 96826,U.S.A.

TEL

+1-808-947-2280

E-Mail

info@startshawaii.com
【Guam】STARTS GUAM GOLF RESORT inc.
Address

#2991 RT.3 NCS Road Dededo Guam 96929,U.S.A

TEL

HOTEL:+1-671-637-5151 CLUBHOUSE:1-671-632-1111

E-Mail

sgrh@guam.net
Canada
【Toronto】STARTS REALTY CANADA,INC
Address

5700 Yonge St., Suite 200 North York , Toronto , Ontario , ON M2M 4K2 , Canada

TEL

+1-647-777-1414

E-Mail

rika.masuda@starts.co.jp
Mexico
【Mexico city】STARTS MEXICO S.A De C.V.
Address

Arquimedes 130, Piso 5, Oficina A Polanco V Sccion, 10560 Mexico, D.F.

TEL

+52-55-4169-5646

E-Mail

starts@starts.mx
Brasil
【Sao Paulo】STARTS BRASIL IMOBILIARIA LTDA.
Address

Av.Paulista,807 Cj.1120-Bela Vista Sao Paulo-SP-Brasil

TEL

+55-11-3266-6755

E-Mail

contato@startsbr.com.br

Germany
【Dusseldorf】Starts Dusseldorf GmbH.
Address

Bergerstr.14, 40213 D'dorf

TEL

+49-211-239-167-0

E-Mail

duesseldorf@starts-germany.de
【Frankfurt】STARTS Deutschland GmbH Frankfurt Office
Address

Am Hauptbahnhof 12 60329 Frankfurt am Main

TEL

+49-(0)-69-2542-2705

E-Mail

frankfurt@starts-germany.de
France
【Paris】STARTS FRANCE
Address

2bis rue du bouloi 75001,paris,France

TEL

+33-9-53-84-51-69

E-Mail

paris@starts-france.fr
United Arab Emirates
【Dubai】SIU REAL ESTATE BROKERS L.L.C
Address

Blue Bay Tower Office No.819 Business Bay, Dubai, P.O.Box 125682

TEL

+971-42766922

E-Mail

shotaro.ikeda@starts.co.jp
Russia
【Moscow】STARTS Russia,Ltd.
Address

121099, Russia, Moscow, Smolenskaya Ploshad 3,Regus Business Centre, 6th floor, office 636.

TEL

+7-495-937-8790

E-Mail

info@starts.com.ru
United Kingdom
【London】STARTS LONDON LIMITED
Address

WeWork, 2 Eastbourne Terrace, Paddington, London, W2 6LG

TEL

+44(0)20 3950 1571

E-Mail

info@startslondon.com

Australia
【Gold Coast】Having business partnership with company in Gold Coast
*For inquiries, please contact International Division of Starts Corporation Inc.
TEL

+81-3-6202-0148

E-Mail

kaigai@starts.co.jp
【Sydney】STARTS International Australia Pty. Ltd,Sydney Btanch
Address

1336, Level 13, 135 King Street, Sydney, NSW, 2000

TEL

+61-2-8973-7420

E-Mail

syd@starts-syd.com.au